Your Shopify app store page plays a critical role in driving organic traffic, and in converting that traffic into trialists. It is the most important piece of your Shopify funnel.
Shopify's app store redesign of Nov 2022 requires apps to add a few fields and change some of the existing ones. It is an excellent opportunity to revisit and optimize your Shopify app store listing.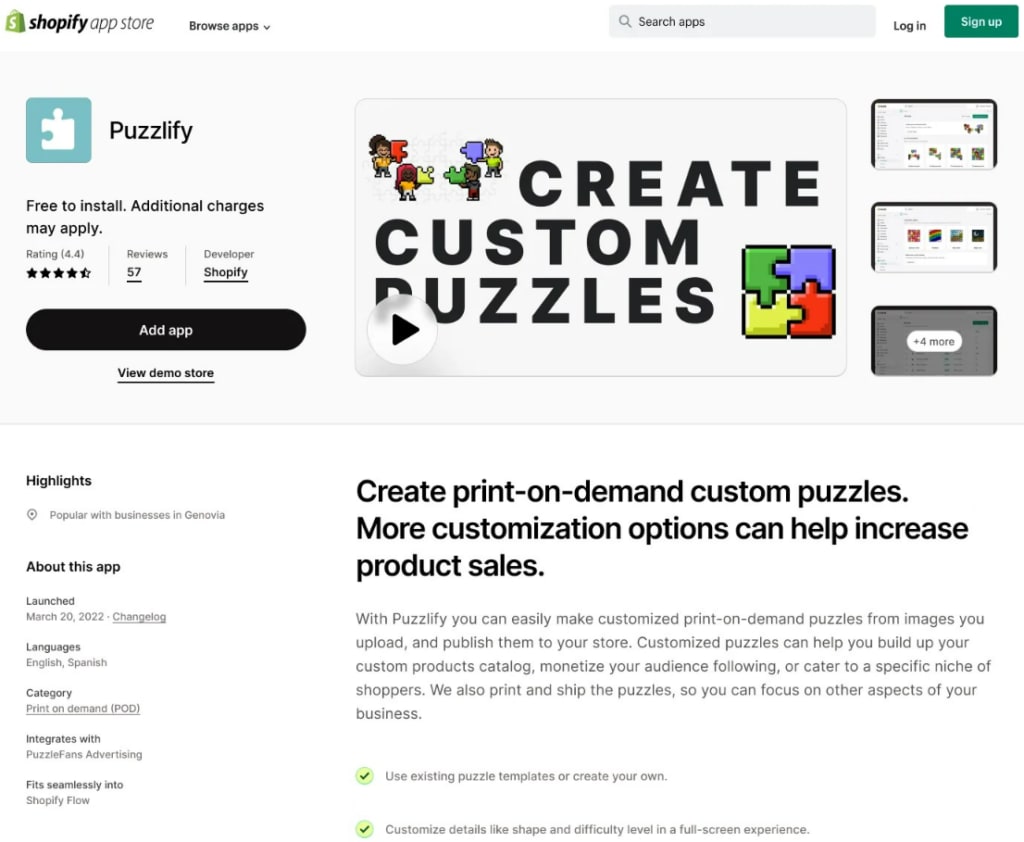 Shopify app store page redesign November 2022 (source: Shopify)
In this article, we'll start with the research you need to do before you touch your Shopify app store page, and go through every part of your listing –  optimizing for both traffic acquisition and conversion.
Know which keywords to focus on 
While Shopify doesn't disclose how its app store search and placement algorithms work exactly, keywords are a big part. The more prominently you use a keyword, the higher you'll place for that keyword in organic search and the more traffic you'll get for it. 
There are only so many prominent places where you can insert keywords in your app store listing. It's critical to decide which keywords to focus on. Not all keywords are equal for your app. Some convert and drive revenues. Others, not so. You want keywords that have enough volume and that convert for your app. 
You can get an indication of search volumes through tools such as Google keywords planner.
Prys provides free retroactive end-to-end attribution for Shopify apps. It shows you how much each keyword is worth to you.

Prys - Keyword funnel performance report
Optimize your Shopify app store page
Shopify app store search terms
Shopify lets you choose up to 5 search terms for your app. These are the terms you'd like to rank high on. Choose based on the results of your keyword analysis. 
App name and subtitle
Before shops click through to your Shopify app store page, they see your app's card (examples below). Your card needs to appear high on search results and invite users to click. The most important elements are the app name & subtitle, and reviews.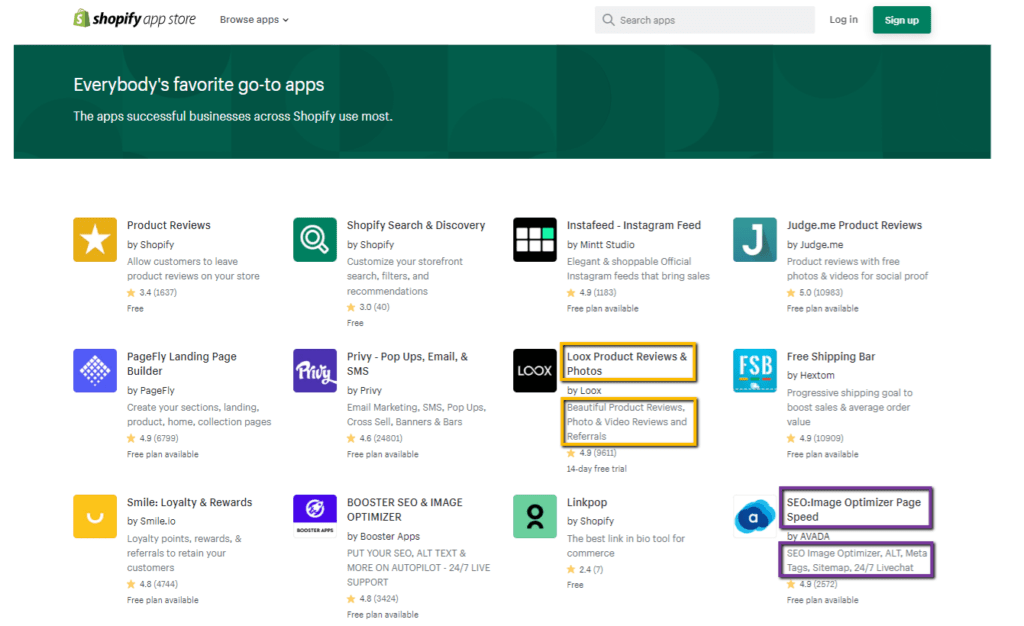 Shopify app card examples – app names and subtitles
Your app name weighs heavily in your search results placement. The 30 characters allowed are the among best SEO real estate you have. All the top-ranking apps in the screenshot above weave their top keywords into their 30-character names, and you should too. Most combine the app name and keywords, like Loox. Some go all-SEO and use only keywords in their name. 
Your app card subtitle is another max 62-character blurb where you can outline what your app does, using your top keywords. 
Screenshots and video
Established brands convert well. These brands make shops feel that they are in safe hands, with a high probability of a good fit. Do your best to make your video and screenshots top-notch and Shopify-specific, so your app will look like a relevant established brand. Note that mobile screenshot sizes are changed in the Nov 2022 app store redesign.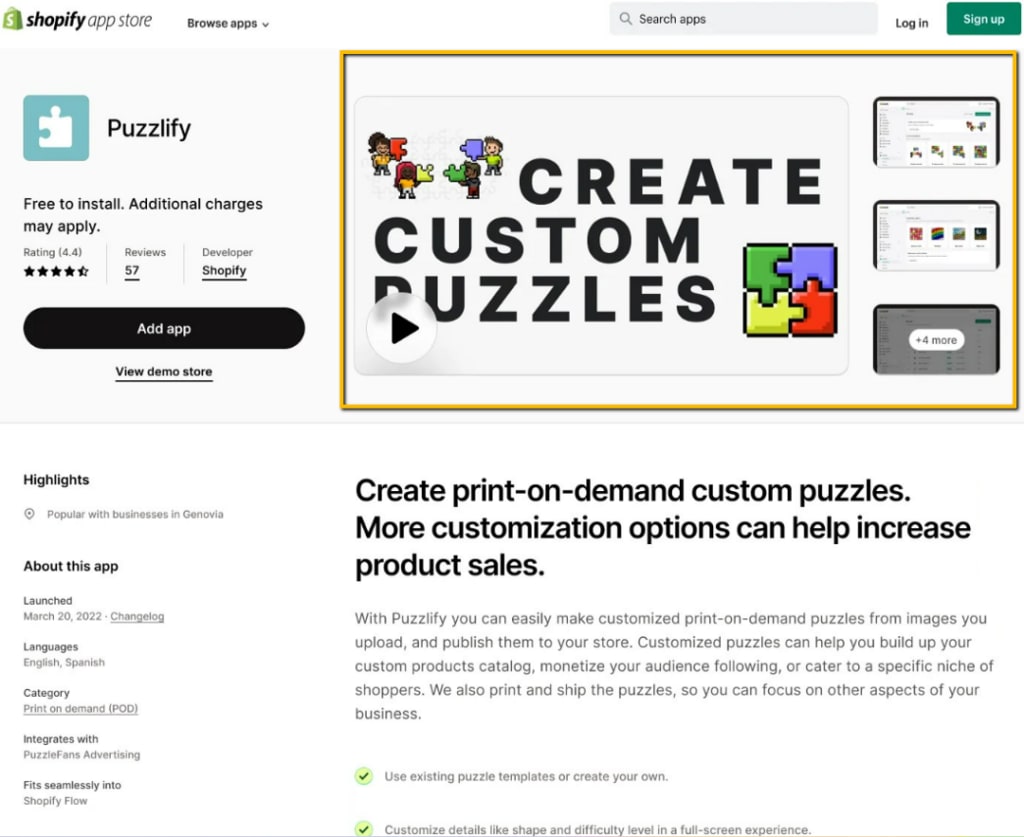 New Shopify app store page — screenshots and video
App Introduction
App introduction is a new field added by Shopify in Nov 2022. You get 100 characters, 20–25 words, to introduce your app. That gives you enough room for your value proposition and maybe a feature or two.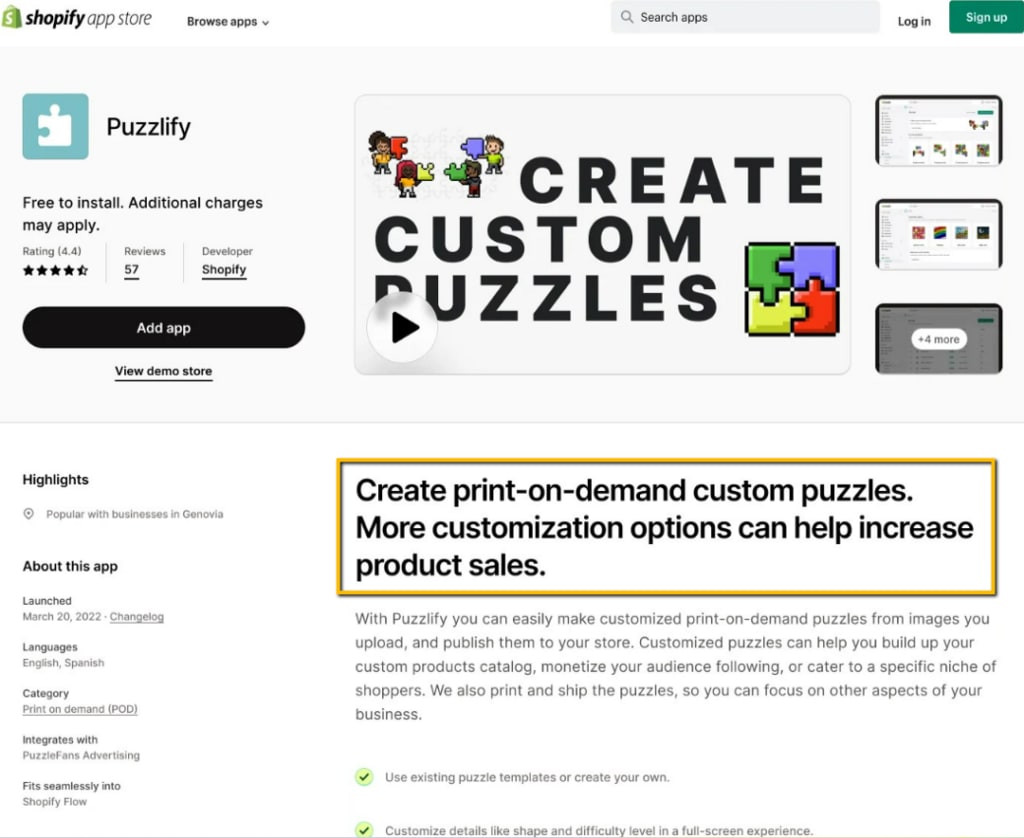 New Shopify app store listing — App introduction
You should assume that your potential customers open your app store page in a tab alongside several of your competitors. Your page will be scanned along with theirs. Only the most compelling scans will get a deeper dive. To make the cut, you must capture interest with your value proposition. In very few words, including strategically placed keywords for SEO, you need to explain what your product does, the value it provides, and why it's special.
App Details
App details is another new field added by Shopify in Nov 2022. You get 500 characters, around 100 words, to provide more detail on your app. Focus on the benefits your app provides and its uniqueness. Build on what you wrote in the intro. Here too, make sure you use some of your top keywords.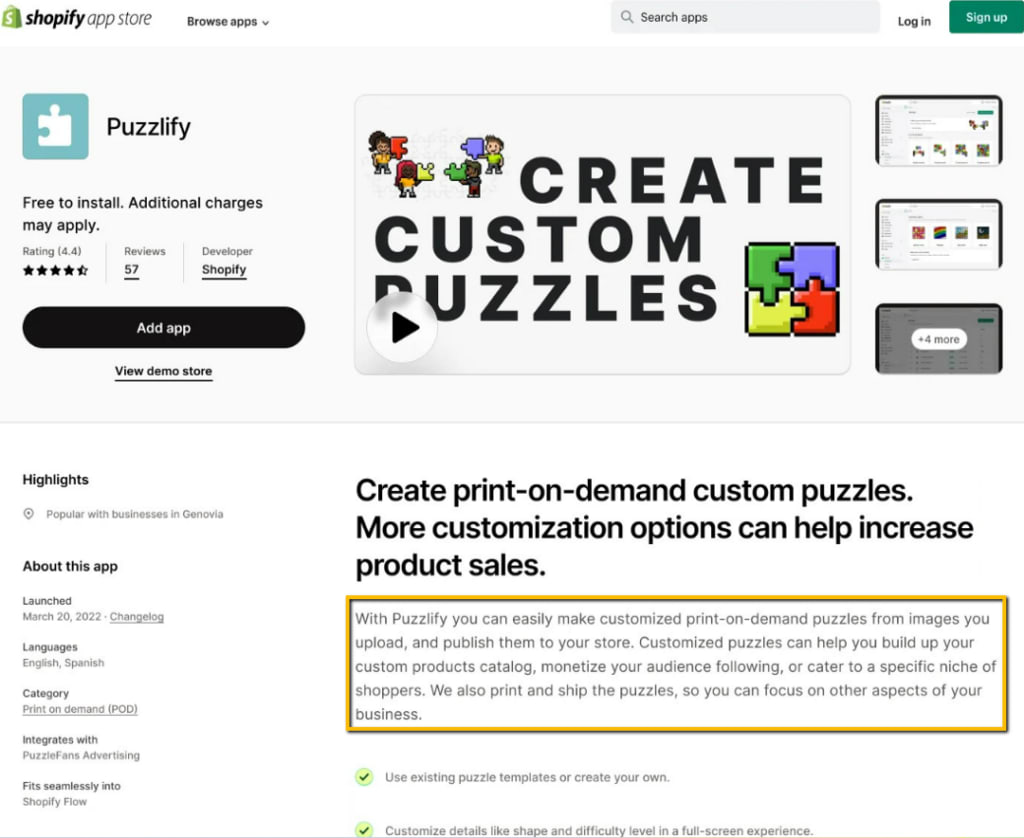 New Shopify app store listing — App Details
Feature list
The feature list is another new section added on the Nov 22 Shopify app store listing update. In your bullets, you should cover the basic features that most shops would look for, while also listing the features that are unique to your app. Wherever you can, tie your features to benefits. Don't forget to work-in some of your top keywords.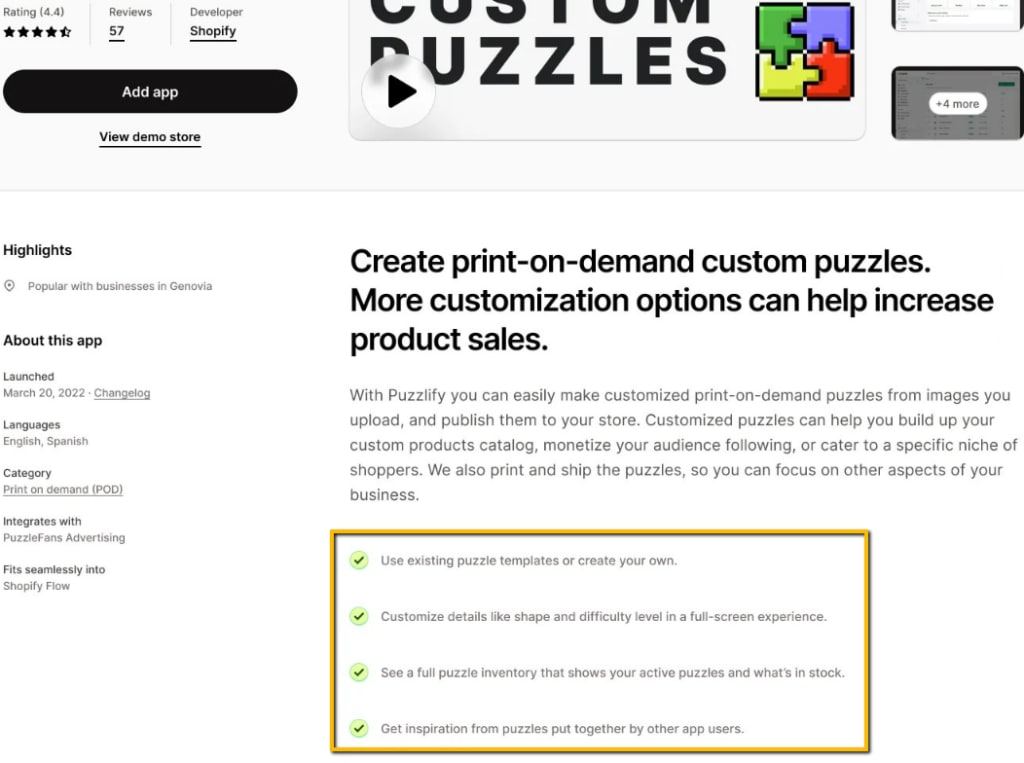 New Shopify app store listing — Feature list
Category
Another welcome change in the Nov 2022 Shopify app store redesign is that you can now categorize your app. You get to choose a primary and, if you want, a secondary category.
Choose the category where your users are most likely to search for you. SASI gives you visibility into the competitiveness of relevant categories. Prys lets you see the value and conversion rate you get for traffic coming from categories you've been listed on.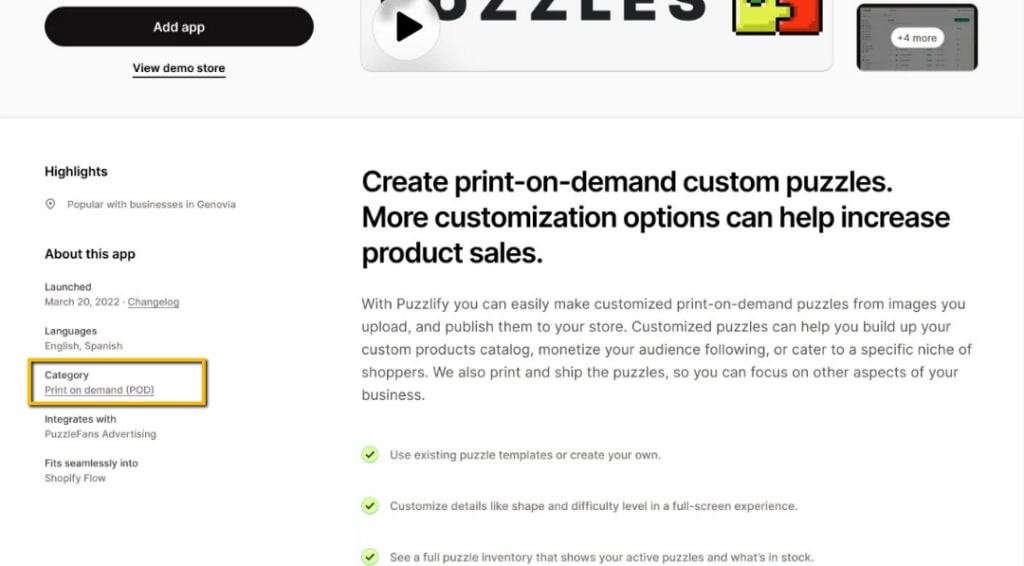 Shopify app store listing — category
Number and quality of reviews
Reviews are a good proxy of your product's quality, popularity, and maturity. They play a big role in the amount of traffic Shopify sends your way and a huge one in your conversion rate. You should do whatever you can, within ethical limits, to grow your review count while maintaining a good rating.
To get good reviews, your onboarding should be smooth and your product should deliver on its promise. What you really should worry about are the 1-stars. One 1-star review 30-minutes after installation can hurt your business for some time. 
Make sure no one gets left behind. Invest in tutorials and onboarding. Have your support easily and widely available. When you have support cases, go the extra mile to make sure issues are solved promptly. If a bad review does get posted, try reaching out to the shop and sorting it out. If that doesn't work, reply to the negative review publically. 
If you're just starting out, make sure your product is stable enough. Offer 24–7 support as soon as you start getting initial traction. Consider dropping your pricing for a while, even to zero, to quickly build up positive reviews. 
Pricing
Pricing affects the conversion rate in two places. First, on the app store page, when users decide whether to proceed with their free trial. Second, at the end of the trial, when users ask themselves if they'll get enough value for what you're asking them to pay.
Your pricing should fit your typical customers, the way they use your app, and the value they get from it. Pricing tiers should ideally represent segments, with features and usage limits matching each segment's typical use case and value. Keep things simple so that your customers clearly understand what they'll be paying. Make sure your pricing compares well with the competition.
Parting words
Your app store listing is the most important building block of your Shopify funnel. It is critical for both traffic acquisition and conversion. The November 2022 Shopify app store page redesign is a great opportunity to optimize your listing. 
Start with keyword research, looking for keywords that have sizable volumes and that convert for your app. Once you establish your top keywords, weave them in, in priority, throughout your app store page. The most prominent places, starting from your app's name, get the most important keywords. 
Keep one eye focused on converting. Don't forget to talk about the value and uniqueness of your app. Be fanatic about reviews. Do what you can ethically to increase the count of positives and avoid 1-stars. Price according to your customers, their way of using your app, the value it provides, and the alternatives out there.